Dr. Mark Ford |Pastor
Mark and Teresa Ford were long-time residents of Pickens County, SC. Mark and Teresa came up through the Pickens school system, both graduating in 1975 from Pickens High. They began dating in their senior year and have never been apart since. The romance blossomed into marriage on December 31, 1976. In the next two years, Teresa would finish an associates degree from Anderson University and go on to earn her bachelor and masters degree in agricultural education from Clemson University. Mark would finish

studies at a local Bible college.
After a time of mission work in Paris, France, the Ford's returned to begin their ministry at Mile Creek Baptist Church of Six Mile, SC in 1981. During these early years they began their family, with God giving them two wonderful children – Raquela Ruth Alexander and Paul Christian. In 1988 the Lord led the Ford's to Praters Creek Baptist Church where they experienced a blessed and fruitful ministry from 1988 to 1997. During those years, Mark would pursue a degree in history and a minor in Greek at Southern Wesleyan University. With the gracious and supportive assistance of the church, Mark would go on to earn his M.Div. from Erskine Theological Seminary.
Following a fruitful and blessed ministry at Westminster First from 1997 to 2003, Mark and Teresa were called of the Lord to serve at Cross Roads Baptist Church in Easley, SC. from 2003 to 2012. During these blessed years, ministry opportunities expanded with Mark teaching at Southern Wesleyan University as an adjunct and serving as an associate chaplain at Palmetto Baptist Hospital. Mark finished his doctorate at Princeton Theological Seminary, with a focus on leading a church into missional thinking and ministry.
God has been gracious to the Ford family and continues to allow them to participate in the great work of His Kingdom to a hurting and lost world as Senior Pastor of Highlands First Baptist Church, beginning in 2012. Mark and Teresa love the Highlands community and the people of First Baptist and anticipate great things for the church. Along with her teaching at Highlands School, Teresa uses her love of cooking and hospitality skills to be a blessing and help those in need of encouragement.
Mark and Teresa share a mutual love for their four grandsons and the outdoors. Most of all they love the Lord and count themselves privileged to serve His people and His Gospel.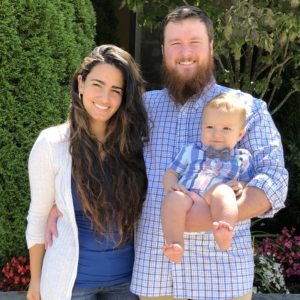 GARRETT SAYGER
Garrett and Alexis Sayger met and married in Mississippi and recently moved here from New Orleans. Garrett earned his B.A.degree at New Orleans Baptist Theological Seminary in music with an emphasis on worship leadership. He is an avid outdoors-man and looks forward to raising his family, including his son Samuel and baby Benjamin, in the mountains of NC. They are both excited to join the FBC family and get involved in the community here.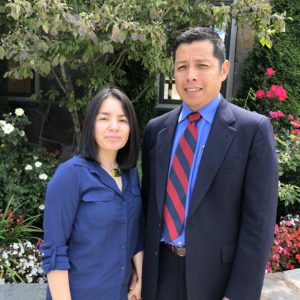 SERGIO & ANGELICA BARRANCO
Pastor of Hispanics Ministries
Sergio Barranco first started serving at First Baptist Church as a church planter in 2013, reaching out to the Hispanic Community. The Lord called him to being a pastor in 2015. He has been happily married to his wife Angelica for 21 years and together they have three wonderful children; Karla (19), Jazmin (12), and Alexander (10). He is excited to see the growth in FBC and is glad to serve here until the Lord calls him elsewhere.